Repairing Your Concrete Pond & Water Fountain
It is not always easy to keep your concrete water features in good working order. Sometimes, there are repairs that need to be done that are difficult. Still, if you are able to research the issue ahead of time and create a plan for the repairs, you will be much better off. The information that follows explains what this type of job might require.
One of the most common questions we receive when a customer has a leaking cement pond or backyard fountain with fish and turtles in it is – where do we store our koi fish and wildlife during the renovation? Regardless if you are doing it yourself or hiring someone like us, we always suggest you have a place your koi fish and turtles can be store safely and for an unexpected duration. We've started offering a "storage tank" rental service for this reason, so feel free to ask us about this if you are in fact worried about where to put your fish and turtles during your rebuild or repair.
As long as the pond is drained, and you have a safe place to hold your fish, make sure you have these items.
1. Something To Put Your Trash In
Both trash bags and a trash can are essential to the job, as you will need something to throw your debris in.
2. Tools For Cleaning The Pond Or Fountain
There are several tools for cleaning that would be beneficial to this process, including a pressure washer, rags and scrub brushes. When fixing something that is broken, you first need to make sure it is clean. You should also gather a hose and a bucket to assist you in the process as well. Shop vacuums also work very well to clean the are of debris.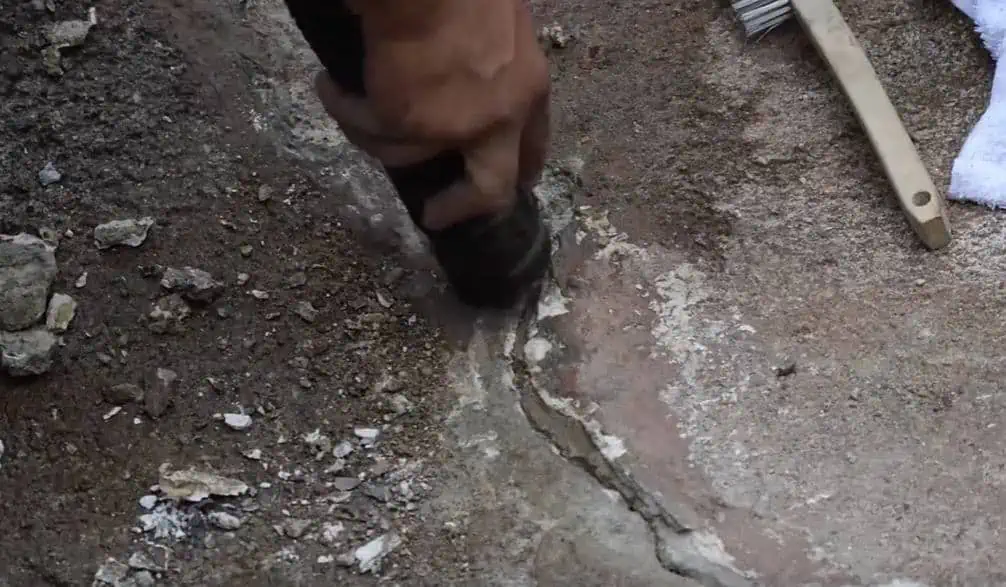 3. Cutting Wheel And Angle Grinder
If the concrete is split, the cutting wheel and angle grinder will help you cut down into the opening. With these two tools, you should be able to go about half an inch down, although the type of concrete you are dealing with could have an impact. You do this in order to put the epoxy down into the crack as far as possible, so that it adheres the concrete back together. If you need to put in a piece of concrete that is not there any more, the angle grinder can help you prep the area.
4. Scraper
After you have used the pressure washer, there may still be something in the area that you don't want to be there. A scraper can help you with this problem. In addition, you can get failing coating away from the area, too.
5. Pond Shield And ThoroSeal
If there is a crack in the concrete that you need to repair, a pond shield or ThoroSeal can assist you. It works like glue or a putty to ensure that the crack stays together. In addition to the pond shield, you need a fiberglass mat (1.5 ounce chopped strand). The fiberglass mat helps reinforce the work that you are doing so that the concrete pond remains strong over time.
6. Muraitic Acid
Before you put on the pond shield, make use of muraitic acid. It helps get the concrete ready for the work that you are going to perform, cleaning it regardless of its age. It contains three parts water and one part acid and it is put over the concrete in order to get rid of the calcium sulphate.
7. Brushes, Rollers And A Putty Knife
Rollers and brushes will assist you as you put on the new coating. In addition to that, a putty-knife will help if you need to add a large amount of solution first.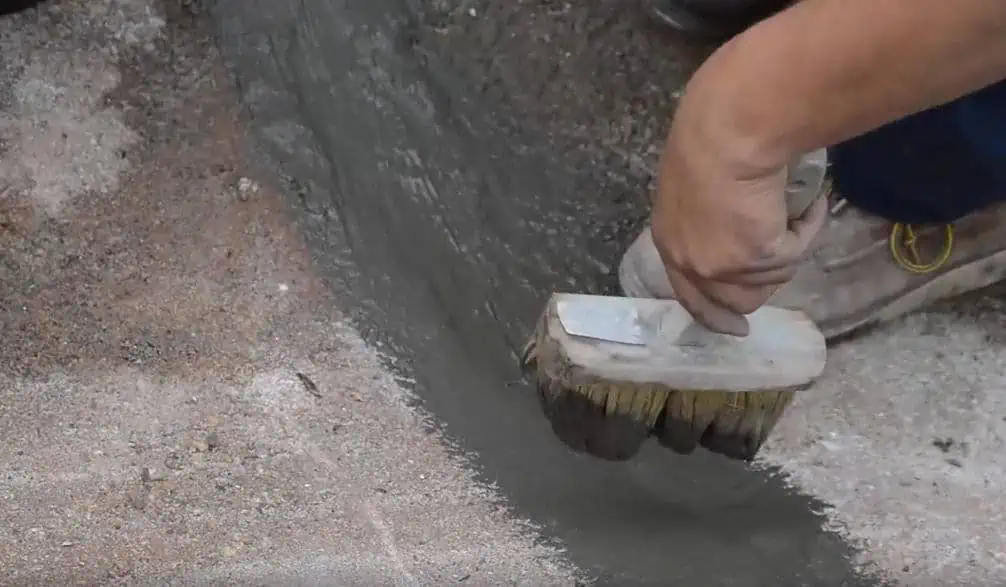 8.Concrete And Bonding Agent
Is there a piece of concrete missing from the area? If so, you need extra concrete and a bonding agent. It is difficult to add concrete to concrete, which is where the binding agent comes in to play.
9. Follow These Steps For Your Concrete Repair
Simply clear away any debris with your cutting wheel, scraper, or grinder.
Once your area is clear of debris, rinse it off to get rid of any dust.
Fill the area or crack with whichever solution you have selected (Thoroseal or similar)
Let it dry for 24 – 48 hours.
Add more if needed, and repeat 2-3x (if needed)
Use Muriatic acid to clear away excess putty or Thoroseal.
Fill with water and let sit for 24 – 72 hours and mark a line to watch for water loss.
Add dechlore before adding the fish again (dont rush into adding fish again, make sure to treat the water first)