What Is Pond Algae, And Is It Bad For My Pond?
Algae is a term used for a diverse group of organisms similar to plants. These organisms exist largely in ponds but are found in other water bodies as well. Algae help maintain ecological balance in the water bodies.
Summer is the peak season for the growth of Algae. July and August are the months when pond algae are on full-bloom. Similar to plants, algae also grow under the sunlight. These organisms combine carbon dioxide and water to form sugar for growth and energy.
Not sure what type of Algae you're dealing with? Check out the most common types of pond algae we run into when managing our clienteles water features.
When Can Algae Be An Issue?
Algae are oxygen producers; however, in the absence of sunlight, algae respire at a high rate. During the respiration process, algae use sugar and oxygen, thereby releasing carbon dioxide. As a result, the oxygen level depletes in the pond or lake.
Since the shallow ponds have direct exposure of sunlight, they serve as a breeding ground for different algae. Also, shallow water is warmer, so they encourage the growth of pond algae.
Not only this aquatic vegetation is unsightly, but it also affects the quality of the aquatic ecosystem. The HABs (Harmful Algal blooms) deplete oxygen in the water and are life-threatening for the gill-breathing organisms.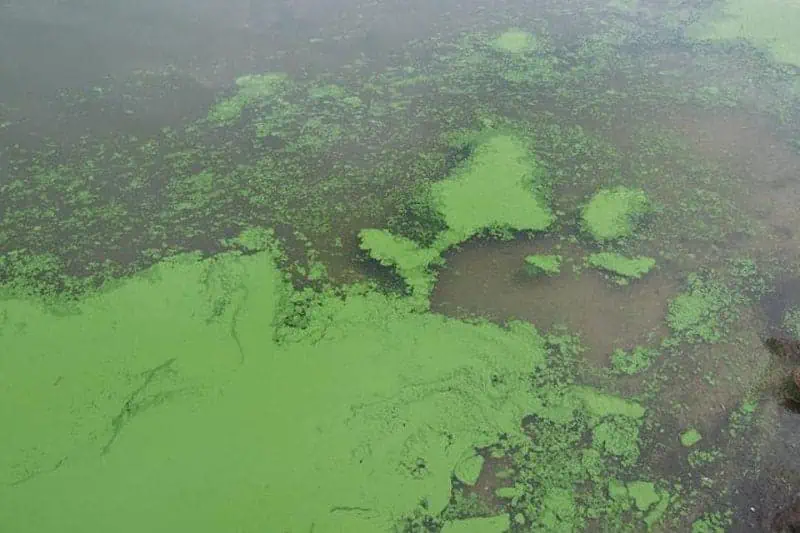 Types Of Algae
Algae are living organisms found in all water bodies, including lakes and ponds. Phytoplankton, commonly known as algae can be unicellular or multi-cellular. Some algae are grouped together in colonies, and there are as many as 30,000 species of algae living in water bodies.
However, pond keepers become aware of the existence of algae bloom when it appears in all its glory, affecting the ecological balance. Algae do not have stems or roots and reproduce by means of fragmentation, spores, or cell division.
Algae or cyanobacteria live on excess nutrients found in the water and exist in many shapes and colors. Some of the common pond algae are as follows.
Planktonic Algae
Planktonic algae are, perhaps, the most widespread and commonly found pond algae. Some organisms are unicellular, and some are composed of colonies of single cells. These microscopic pond plants have a variety of colors, from light blue to bright green, golden and red. Within the blue-green algae, there exist many varieties with different colors, including brown algae and yellow algae.
Planktonic algae are the primary producers in the food chain, which is the main food source in the ponds. Original content source lakemanagementinc.net Blooming planktonic algae may appear as a dye in the pond water and cannot be removed easily. The algal blooms cover the entire waterbody, forming dense masses on the surface.
The high concentration of planktonic algae causes oxygen to deplete, thereby killing the aquatic habitat. Blue-green algae thrive on nitrogen and carbon dioxide. Species of Cyanobacteria –the blue-green algae –are not only toxic to the fish but also humans and wildlife.
Chlorella, Microcystis, Tabellaria, and Chlamydomonas are some of the planktonic algae.
Filamentous Algae
There are various names for Filamentous pond algae, like moss or pond scum. Filamentous algae start growing from the ponds' edge and slowly rise. The filaments reach the surface of the waterbody and appear as greenish mats.
The patches of filamentous algae are joined in a series of cells and have long, slimy, and cottony texture. The dense patches often appear as bright green scum, but may also exhibit shades of browns or yellows in case of dying algae.
High levels of phosphorus and calcium stimulate the growth of filamentous algae in the pond. Also, high-nutrient load or stagnation promotes filamentous algae production. Poorly managed filamentous growth can be harmful to the survival of aquatic life.
Some of the common filamentous algae include Lyngby, Spirogyra, Anabaena, Spirulina, and Pithophora.
Golden Algae
Another pond algae species are the Golden algae found mostly in freshwater lakes and ponds. Golden algae are one-celled organisms that can produce a toxin, just like the blue-green algae. The production of the toxin is detrimental for the aquatic life as it damages the respiratory system in gill-breathing organisms, such as amphibians, fish, and crayfish.
When the gill-breathing organisms encounter toxins, the gills become dysfunctional and find it difficult to absorb oxygen from the water surface. The low oxygen levels cause internal bleeding in the species, which eventually kills them. Golden algae are toxic to fish and can result in their death without an early sign.
Macro-Algae
Many people tend to confuse macro-algae with aquatic plants because they are multi-cellular organisms. Macro-algae is common to marine than freshwaters. These algal blooms grow like pants and have a root-like stem. However, unlike the plants, macro-algae don't have true roots.
Macro-algae occupies the same ecological niche as aquatic plants. Some of the macro-algae, such as Starry Stonewort, are believed to be detrimental. Other examples of macro-algae include Nitella spp. And Chara spp.
Impact Of Harmful Algal Blooms (HABs)
Algal blooms refer to fast-growing cyanobacteria or blue-green algae in the water. It spreads as a colored scum on the surface of the water body. While some algae have little to no impact on the pond's health, others may prove to be harmful. Harmful Algal Blooms (HABs) are detrimental to aquatic life.
HABs can occur naturally or may be induced by humans. Algae blooms in large concentrations pose a threat to the pond's ecosystem. HABs alter the chemical balance, thereby creating toxic conditions for humans, fish, and wildlife. Blue-green algae are the main stimulant of HABs.
HABs are a potential threat to agriculture and drinking water resources. Studies suggest that exposure to cyanotoxins may cause some serious neurodegenerative diseases, such as Parkinson's disease, ALS, and Alzheimer's. The blue-green toxin algae can be found in all water bodies, small and large, including ponds, lakes, and stormwater.
Final Thoughts
Cyanobacteria are not only harmful to pond life but also pose a threat to humans. Today, many states are following the U.S. Environmental Protection Agency's (EPA) cyanobacteria guidelines for prevention. Pond keepers and owners are adopting measures for ensuring safety against HABs.
Original Content Source: Lakemanagementinc.net